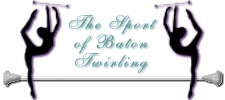 Non-Exam, Performance Oriented Dance Program
The Baton & Dance Company's Dance Program is a "non-exam" approach to learning a combination of jazz, lyrical and hip-hop dance styles. Our dance classes are geared towards developing excellent body technique, expression, creative movement and contemporary dance styles. Lessons will consist of an extensive warm-up (stretching and strength training), centre floor techniques, across the floor dance elements and performance skills.
Many parents have expressed an interest in an adult dance class! If we can get 10 or more adults together we will run the class!
Dance classes are divided into the following categories:
Kinder Boogie (3-5 year old children)
Location: Beddington Heights Community Centre
Time: Tuesdays, TBA
Length: 30 minutes
Fees: $20/month (GST incl.)

Junior Jazz/Hip-Hop
Location: Beddington Heights Community Centre
Time: Tuesdays, TBA
Length: 45 minutes
Fees: $30/month (GST incl.)

Teen Jazz/Hip-Hop
Location: Catherine Nicholas Gunn Elementary School
Time: Mondays, TBA
Length: 1 Hour
Fees: $36/month (GST incl.)

Adult Jazz/Hip-Hop
Location: Catherine Nicholas Gunn Elementary School
Time: Mondays, TBA
Length: 1 Hour
Fees: $36/month (GST incl.)

Note: All times and locations may be subject to change