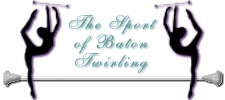 We are very proud of our athletes and coaches! The New Heights Baton Twirlers has athletes of all skill levels, from recreational students all the way to world level competitors.
---
Coming Soon!
---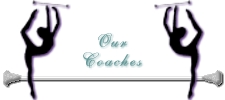 Loranne "Elle" Meek
The founder and owner/director of The Baton & Dance Company, Loranne is the head instructor and choreographer for New Heights. She was the 1983 and 1985 Grand National 2-Baton Champion and was also a member of the 1986 World Silver Medallist Team. Loranne has coached many National Level Champions including Carolyn Day, Kristen Mack, Jordan Madly, Corry Topp, Lindsay Pylychaty, Vicki-Ann Jean, Brianne Jensen, Candace Zwarich, Sherri Clark, Margaret Williams, Kendra Masters, National Group Champions - The A Team, Move, Five, Co. Swings, Co. Supreme, Intergalatic Co., Joi, Dive and Scream. Loranne was also the coach of the first Alberta Team to represent Canada at the 2000 World Championships in Den Bosch, Holland. The team placed an impressive 5th! Lorrane is a CBTF Level 3 Certified Coach, NCCP II Certified Coach, a Module 1-5 CBTF Certified Judge and a Skills Development Adjudicator and Course Conductor.
Kendra Masters
Kendra Masters joins us once again this season. This talented young lady has competed in three seperate World Baton Twirling Championships! Kendra began dancing and twirling when she was four at the renowned Martin's School of Dance in Regina. She has extensive training in R.A.D. Ballet, Lyrical, Tap and Brian Foley's Jazz Syllabus. Kendra was the 1999 Senior National Medley Champion and in the year 2000 she travelled to Den Bosch, Holland where she competeing in two divisions - Pairs and Team. She placed an impressive 5th in both categories. We are fortunate to have this experienced and talented instructor on our staff.
Assistant Instructors
We are very lucky to have the following Assistant Instructors helping out in our classes: Megan Enns and Maureen MacKenzie. Welcome aboard guys!